What causes tooth decay? 10 foods and drinks that are bad for your teeth
You want to keep your teeth healthy for many reasons. The tooth decay left untreated can lead to lots of pain, highly priced treatments and even other health problems. The best way to treat tooth decay is to never have it. Prevention is the best thing you can do about it.
We passed the times when it was sufficient to brush your teeth twice a day in order to avoid tooth decay. Nowadays more foods and drinks contain high quantities of sugar and acids, which are the number one cause of tooth decay.
You may think that you only have to avoid sugar in order to keep your teeth healthy, but there are plenty of foods that contain sugar and you might not know. Also, there are other ingredients that you should avoid in order to avoid problems like tooth enamel erosion and early tooth decay.
Here is a list of 10 foods you need to avoid for healthier teeth:
1. Sour candies
Everyone knows that candy is bad for your teeth. Sour candies not only contain a high quantity of sugar, but also acids that can lead to enamel erosion. Plus, as they are so chewy, they are more likely to stick on your teeth for a longer time, which can lead faster to decay.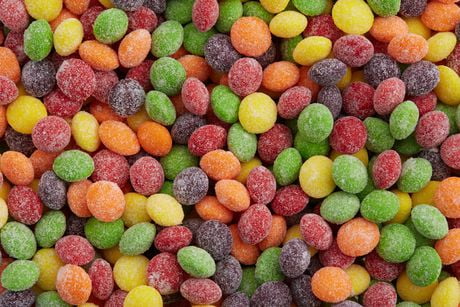 source:https://i5.walmartimages.ca
2. White bread
Surprisingly, right? There are already reasons to avoid white bread, such as refined carbohydrates and high sugar content. You can also consider avoiding white bread to have healthier teeth. When you chew it, the saliva breaks down the starches into sugar. Now converted into a sticky paste, the bread will get easier into the crevices between your teeth. If you can't get rid of the bread, try the less-refined assortments. Whole wheat and rye bread contain less refined sugar, which is harder to break.
3. Coffee
Coffee contains tannins, which is the ingredient responsible for stains. Tea and wine contain tannins also. Your daily cup of coffee is enough to stain your teeth. Coffee is also an acidic drink. This may lead to enamel erosion and thinner teeth. Moreover, coffee sticks to the tongue, which can cause bad breath and even halittosis in some cases.
But is not easy to cut off your coffee or tea, or wine, right? What can you do about this?
• Drink the coffee in one sitting
• Avoid as much as possible creamer and sugar
• Brush your teeth soon after you drink the coffee
• Raise the intake of raw fruits and vegetables. They keep the teeth clean by breaking bacteria
• Visit your dentist every six months for the dental cleaning. It cleans all the spots.
• Eat something before you drink coffee
• Use more often a tongue scraper
source:https://healthmagazine.news
4. Carbonated drinks
Don't get trapped into the "diet soda" escape. Carbonated drinks are harmful in every variety they come in, and a top drink which is  bad for your teeth.  A study found out that large intake of carbonated soda can have the damaging effects of highly addictive drugs. They push the plaque to produce more acid to attach to the tooth enamel. The mouth gets dryer, which means there is less saliva to wash away the food debris. Also, dark coloured soda can cause teeth decolouration and yellow stains.
5. Sport drinks
Yes, we needed to make a special topic on sports drinks. They contain high doses of sugar, sometimes up to 13 teaspoons for one bottle. They contain some minerals that help the body revive after a hard training, but they also contain acids. Actually, they are more acidic than soda, which leads to highly enamel erosion. The biggest problem is that most people sip the sports drinks, they don't chug it. This means that the acid contained in the drink stays longer onto your teeth surface.
6. Alcohol drinks
We stick with the drinks for number 6 also. Did you ever notice that your mouth dries out when you drink alcohol? That's because it has diuretic properties, which means it drains faster the liquids in your body, making you dehydrated. As mentioned earlier, a dry mouth can't flush away food particles.
Moreover, dry mouth is linked to 30 percents of tooth decay in adults.
We won't tell you to stop drinking your usual glass of wine, but you should consider some advice. Keep yourself hydrated! Alternate the alcohol drinks with water and use fluoride rinses.
7. Citric fruits
Unfortunately, your favourite source of Vitamin C also contains high amounts of acid. We talk about oranges, grapefruits and lemons.
Drinking too many fresh juices can lead to enamel erosion, which makes the teeth vulnerable for decay.  This is available for lemon water, too.
Of course, you want to enjoy the benefits of a fresh orange without risking early tooth decay. There are some ways you can:
Don't brush your teeth before and after drinking these acidic drinks
Use a straw to drink the beverage (paper straw or reusable stainless steel)
Rinse your mouth with water mixed with baking soda after drinking the juice
8. Dried fruits
You may think that this is your rescue to the unhealthy snacks. But their consistency is chewy, which makes them very sticky. And they leave the sugar on the surface on your teeth.
If dried fruits are your favourite snack, try to rinse your mouth with warm water after you eat them, then brush and floss. And remember, there is always the fresh fruits alternative, which is less concentrated in sugar.
9. Potato chips
They come in the same category with crackers and breadsticks. It's the same reason as we don't recommend white bread. The starch will transform into sugar once you chew them, and will get between the teeth to feed the bacteria.
This is the main cause of cavity between teeth. But in this case, you can also hurt your gums with the small crunches.
Try to brush your teeth and floss as soon as you finish eating crunchy snacks.
10. Pickles
It's about acid again. The sourness in the vinegar pickles might be the tastiest flavour for you, but it comes packed with all the acid it can get. This makes the pickles number one acidic foods to avoid.
In a study where took part more than 2300 children,the researchers positioned pickles on top of the list for dental erosion foods.
Pickles are also responsible for gastroesophageal reflux. It is when you have lots of acid in your stomach and it goes back into your oesophagus. This is again bad for your teeth, as your mouth might get some of the acid reflux also.
Try to avoid chewing the pickles for too long. And don't make them your snack. Carefully brush and floss as soon as you finish eating a pickle.
As you just saw, there is plenty of bad food for your teeth. You should keep in mind that the food industry is constantly changing. This means some items can contain more quantities of sugar and acids, which are the leading cause of early tooth decay.
If you follow this piece of advice and keep visiting constantly your dentist, it should be easier for you to avoid enamel erosion and tooth decay.
(Article by Laura Taftur)